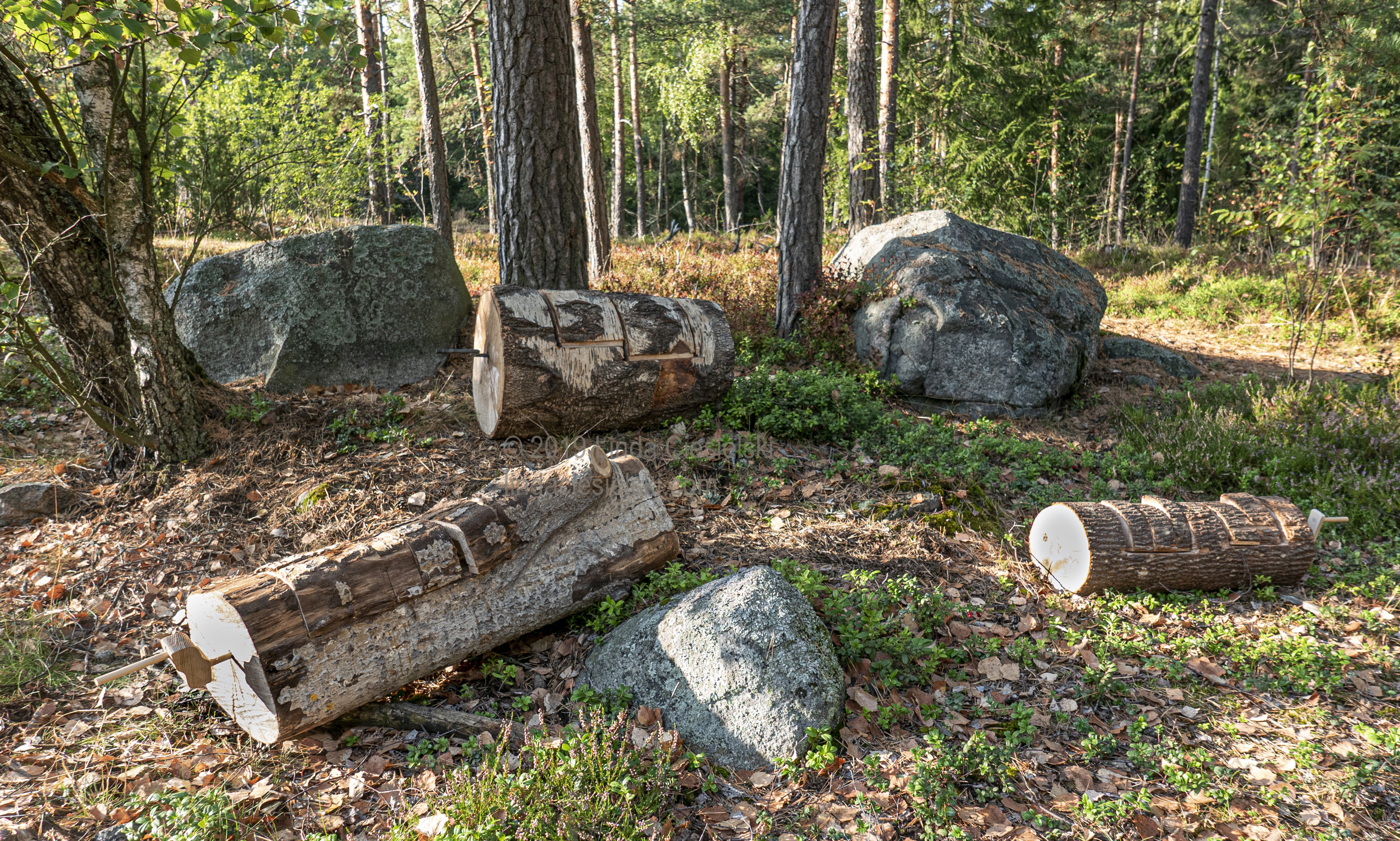 Three Voices/ Kolme Ääntä
Two-channel video, sound and sculpture installation
2019

Konkelo, an old Finnish word rarely known by urbanites, describes when a fallen tree is caught in the limbs of a standing one. Even in low winds, the trees rub against each other producing a distinct sound, or ääni, a voice. The existence of the word konkelo implies a culture connected to forests, forestry, as well as one of listening. The phenomenon of one tree remaining stuck in another implies an unrushed forest, slowly changing.
In Finland's vast industrial rushed forests, teollisuusmetsiä, what sounds are lost? In a landscape of alternating monocultures of pine and birch, is the absence of certain ääniä, sounds, voices, votes.
Through instruments that Linda invented and built within three different discarded cut trees, koivu (birch), haapa (aspen) and vaahtera (maple), comes a chorus of diversity.
In the final installation, a two-channel video runs next to the sculpture instruments, showing a personal journey through trees, and friends of different backgrounds, cultures and orientations playing the instruments in two overlapping bands. Even when given the same instrument, each person plays their own tune.
Linda's video and sculpture installation explores the pace of trees' and humans' natural rhythms, humans' capacity to listen, and the music, song and resilience that comes from diversity.
suomi:
Konkelo on vanha suomalainen sana, jonka harvoin kuulee kaupunkilaisen suusta. Sana tarkoittaa kaatunutta puuta, joka on takertunut pystyssä olevan puun oksiin. Pienikin tuulenvire saa puut hankautumaan toisiaan vasten, mikä tuottaa aivan omanlaisensa äänen. Konkelon kaltaisen sanan olemassaolo kertoo omaa kieltään kulttuurista, joka on kytköksissä metsään ja metsänhoitoon, mutta myös kuuntelemiseen. Puu, joka lepää toista puuta vasten, kertoo kiireettömästä, hitaasti muuttuvasta metsästä.
Mitkä äänet katoavat kiireisessä teollisuusmetsässä? Maisema, joka koostuu toinen toisensa jälkeen kohoavista männyistä ja koivuista, on vailla tietynlaisia ääniä.
Linda on kehittänyt ja rakentanut kolmen eri puulajin (koivun, haavan ja vaahteran) sisään soittimia, joiden avulla saavutetaan moniääninen kuoro.
Lindan video- ja veistosinstallaatiossa tarkastellaan puiden luonnollisen rytmin nopeutta, ihmisten kykyä kuunnella sekä musiikkia, laulua ja sitkeyttä, jotka kumpuavat monimuotoisuudesta.